Freeman Manufacturing & Supply Company
Welcome to North America's largest materials supplier to anyone making parts, patterns, tools, or molds. From urethanes and epoxies to specialty waxes, vacuum bagging materials, and silicone rubber. Freeman offers the most comprehensive selection of materials for prototyping, mold-making, modeling, toolmaking, composites manufacturing, and foundry patternmaking.
Celebrating over 100 years of excellence, Freeman is the one-stop materials supplier to industries that design, develop, and manufacture products to precise sizes and shapes. Our materials begin where the initial designs and software end and are used in nearly every stage until the very high production (usually metal) tooling investment is ready to be made.
---

Applications
Freeman's products are used in literally thousands of applications in hundreds of industries. The following areas just scratch the surface of how our products are used.
Foundry Tooling
For 100 years, we've been the ultimate one-stop shop for the patternmaker and foundryman.
Automotive & Aerospace Tooling
The largest and highest quality selection of materials to create precise tooling.
Prototyping
From the styling, modeling, and rapid prototyping of plastic and rubber parts to low production runs.
Thermoforming
From machining and casting of molds and patterns to creation of plug assists and support tooling.
Composites Manufacturing
The construction of parts from fiberglass or carbon fiber materials has been pushing the boundaries of strength, durability, and light weight.
Jewelry Manufacturing
Freeman is one of the top manufacturers of jewelry injection waxes, carving waxes, and other specialty products for the jewelry industry.
Architectural Castings
From architectural molding and restoration for many indoor and outdoor applications to modern decor and set design.
Art Castings
From the duplication of figurines and sculptures to the making of pottery, ceramics, and other ornamental castings.
---
Product Categories
Machinable Media
Liquid Tooling Materials
Fabrics, Fillers, & Bagging
Specialty Waxes
Adhesives & Repair Materials
Foundry Tools & Supplies
Die Boards & Plywood
Hardware & Equipment
Accessories
Sample Kits
---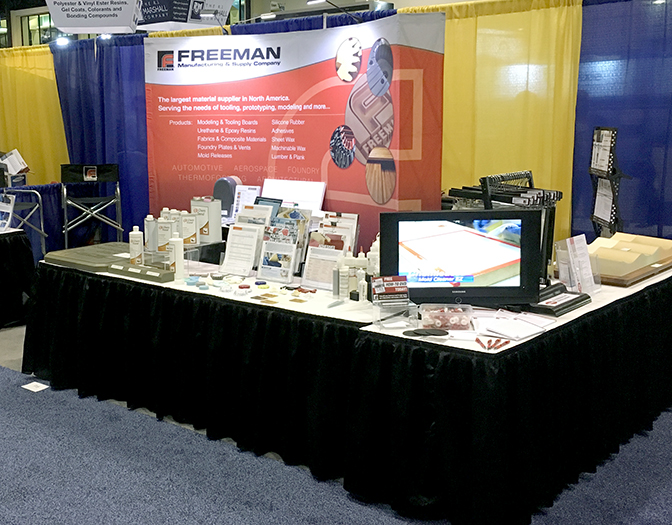 Trade Show Schedule
CAMX 2018
Dallas, TX
October 16-18, 2018
Booth H65
---
Quote Requests
The fastest way to get product pricing and availability is to use our online quote system. Simply browse to the product page (or use our search engine), enter quantity, and then click the Quote button. We will be able to provide pricing, inventory, shipping estimates, and more -- usually within an hour.
Credit Application
Email ar@freemansupply.com to request a credit application.
Technical & General Inquiries
To reach us by phone, call our main office at 800-321-8511. Email us at contactus@freemansupply.com
---
Accuracy Disclaimer
The employees at Freeman have worked very hard to ensure that all of the product and price information throughout our website, our print documentation, and in our price quotes is accurate. However, since our website contains over 1100 pages and 10,000+ items, not to mention the hundreds of technical documents, it is entirely possible we missed something while we work toward 100% accuracy. Therefore, Freeman cannot and will not be held responsible for inaccuracies or omissions. If you discover any such mistakes or you question the accuracy of any information contained in this website, please contact us and we will remedy the situation as quickly and fairly as possible.
Liability/Warranty Statement
Our products are intended for sale to industrial and commercial customers. We request that customers inspect and test our products before use and satisfy themselves as to contents and suitability. Nothing herein shall constitute a warranty, expressed or implied, including any warranty or merchantability or fitness, nor is protection from any law of patent to be inferred. All patent rights are reserved. The exclusive remedy for all proven claims is replacement of our materials and in no event shall we be liable for special, incidental, or consequential damages.